Sweet Lolita Dream World
will be making their debut at Lolita in Wonderland this Saturday.
For a sneak peek at their designs check out their new website:
sweet-lolita-dream-world.co.uk
And from beautiful beaded brooch cupcakes to excellent edible cupcake creations by
Miss Rose Thorne
.
Rose Thorne is a fully qualified chef, burlesque dancer and cupcake baker, who offers
cupcake decorating master classes
!
Artists
Scarlett Tallulah Barrett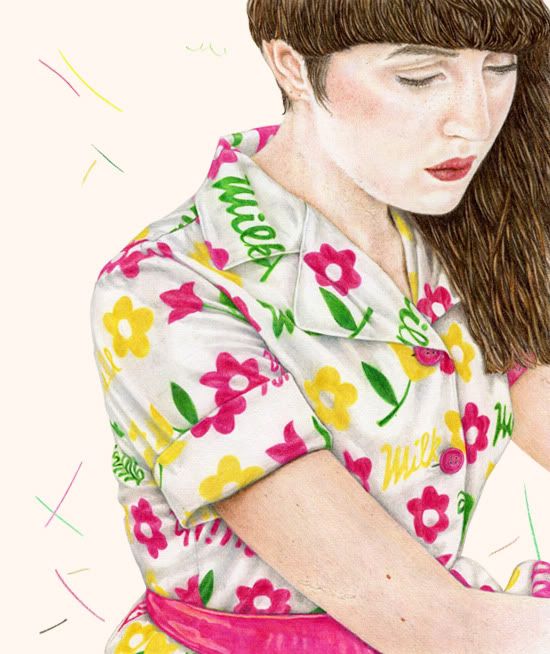 John Henry & Victor Kurzwell | No Place For Angels




Plus more from
ichigo_shock,
wing,
boykitten and other artists yet to be confirmed!




Shops and sellers
Prong Jewellery
Stocking Shock
Peacockalorum
Miwa Vicary
Joanna Fill | Sweet Lolita Dream World



Plus Nikita Sablier, Freyagushi, Emily Bastian, Emily Wolf 'O' and more to be confirmed!

Event photographers
General photography:
Pat Lyttle
Photobooth:
Rod Macdonald
|
rod_m99
Videographer:
Francesco Telegothika Calvano
We are still looking for a few more volunteers to help on the day, plus performers, DJs, speakers for the Lolita 101 panel, a fashion show organiser and catwalk models. Please PM
boykitten
or email
lolita@boykitten.co.uk
for more details.

We are also now taking information for Bring & Buy items, and this will now be offered as a free service!

(
Lolita in Wonderland Sales Information
Collapse
)
Only 1 day to go!
I am pleased to present the artists, designers and photographers who will be exhibiting their work at Lolita in Wonderland II.

Lolita in Wonderland now has a facebook event page.

It's already been noticed by quite a few people! Please click if you're attending, and share it with your friends. :)
Lolita in Wonderland II: Lolita Through the Looking Glass
I am very pleased to announce that the second ever LiW Japanese fashion festival will take place on Saturday May the 14th in Bethnal Green, London.
This is a full day event running from
1pm 'til late
dedicated to celebrating Lolita fashion and it's offshoots.
During the day there will be fashion shows, art exhibition, films and animé, workshops and talks, tea and cake, fun and games! And new to 2011: a special sales area with Lolita bazaar, clothing stalls and bring & buy sale!
In the evening there will be a loli club night with music, dancing, performances and more! There will also be a photo booth for you to get professional pics of your coordinates, refreshments, and a full bar.
Now seeking artists, photographers, performers, models, shops, sellers and volunteers!
(
Information for artists and exhibiting photographers
Collapse
)
(
Information for designers, sellers and shops
Collapse
)
(
Information for performers, DJs, models and speakers
Collapse
)
(
How to apply
Collapse
)
x posted all over the interwebz - please feel free to pass this information on with a link back to loli_wonderland.
It was a very nice venue and the decorations everywhere were really nice, I liked the parasols and the lights, it had a very nice feel to it and the little photoshoot area was cute and pretty alice themed.
There was lots of cute things t o see and buy.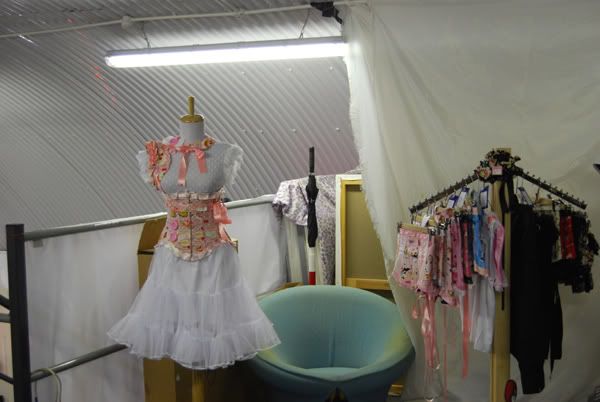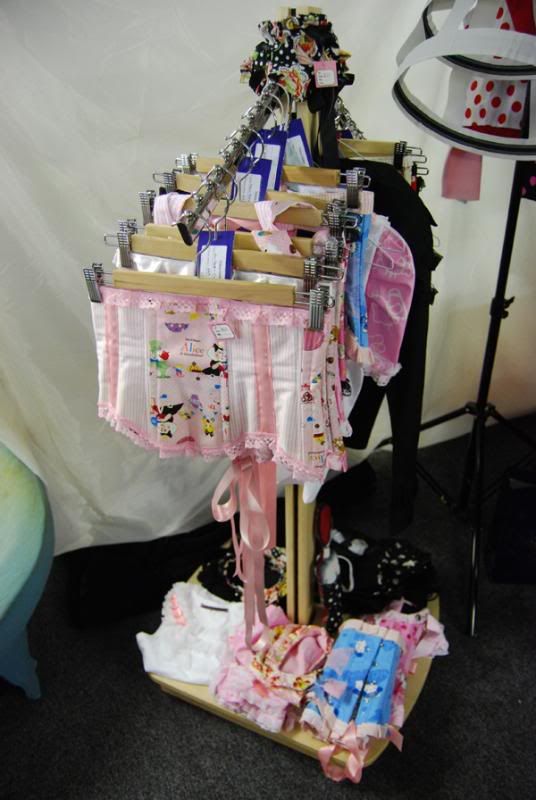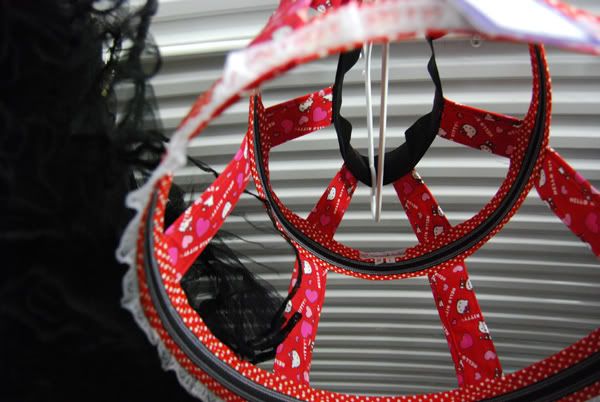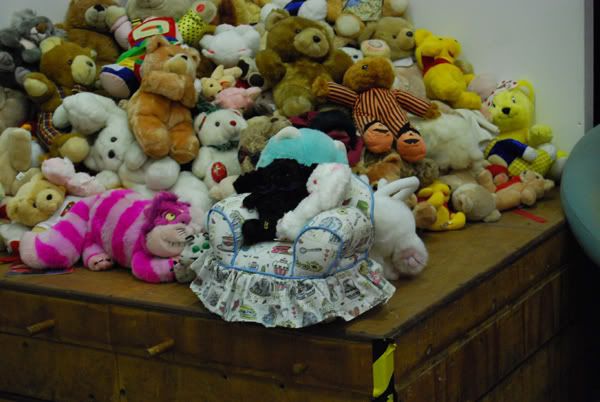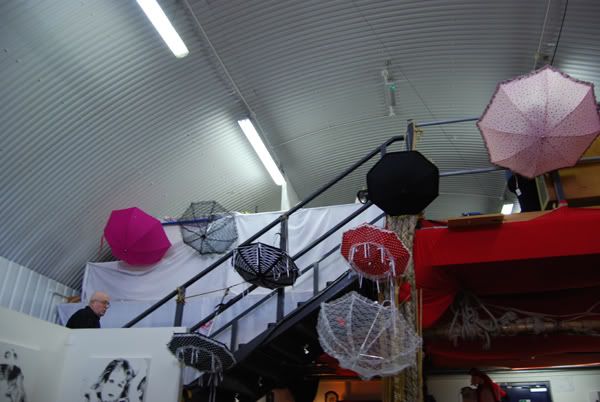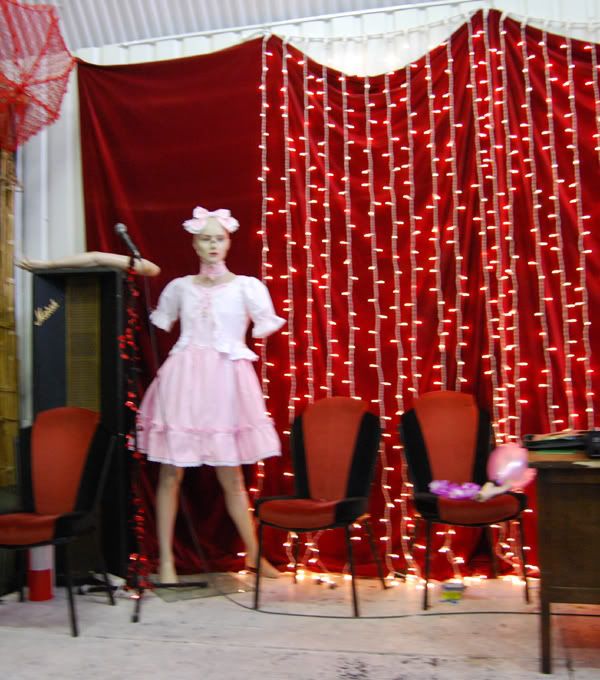 The food and drink was very loli themed and nice, not too over priced either.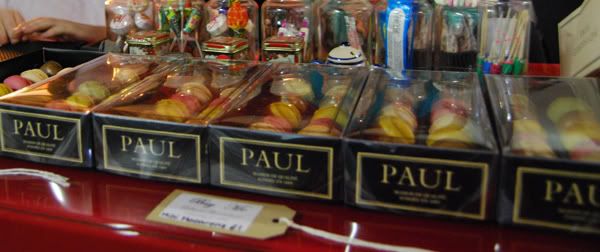 There was a lolita panel which was fun to listen to, it was allot of loli basics, some history and a Q & A all girls did a great job and it was interesting to watch and listen to.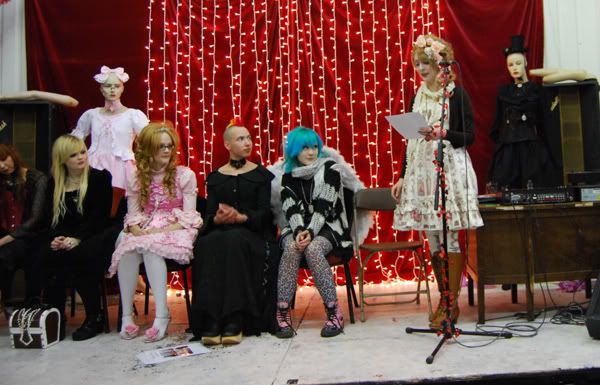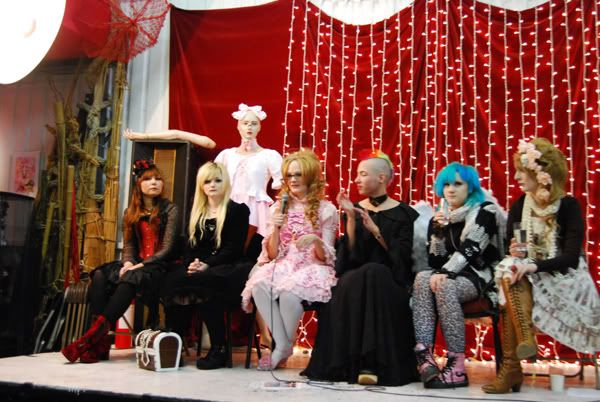 There was a cute quirky fashion show too which was awesome to watch and had some cute clothes.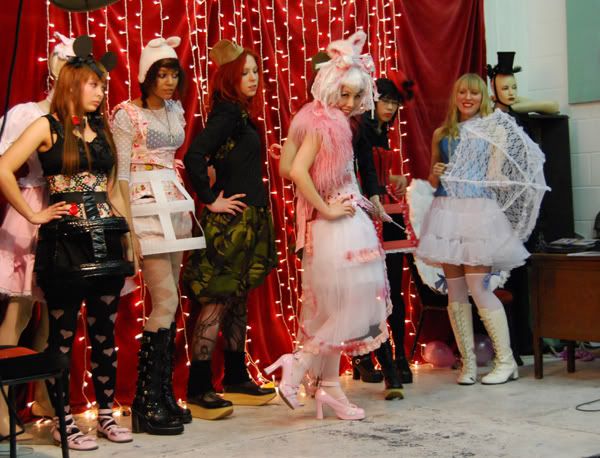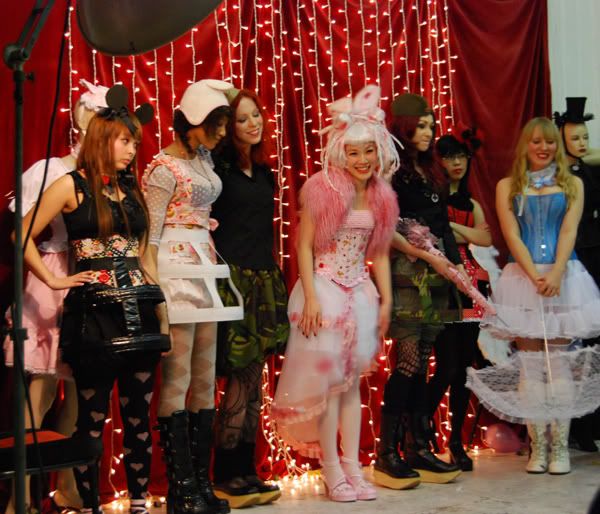 It was a fun day and I enjoyed it allot but I think the next one could be a little more 'lolita' themed. Like a old fashioned lolita fashion show maybe to show off the substyles as yes there were allot of loli's who knew all that already but there was allot of people new to it and would have liked to know more about allt he styles.
I think traders should have been easyer to find, close to the stuff they were selling. I think next time more lolita things would be good and maybe a few more traders, I also think a massive sign outside would help as a fair few people got a little lost.
All in all I give it a 4/5
So here is my write up for the Lolita In Wonderland Event!
I thought
Lolita in Wonderland
went very well considering the time and effort put into it.
Well done Alex for hosting this!
There were great
late night performances
, a insightful
lolita pane
l,
two
interesting
catwalks
, a few
lolita accessory/ clothes sections
,
fine art
,
illustrations
and other types of exhibits in this one single event dedicated to celebrating the
Lolita culture and fashion
.
Drinks and desserts
were greatly prepared, staff were friendly and there were quite a turn out from lolitas outside of London!
It would've been lovely to have most of the lolitas stay for the late evening shows because there were a few people that came for the evening events that I know would've loved to see the others that left.
I thought the
Photo Booth section
was very popular as obviously everyone that dressed up would like to have their pictures taken!
I was hoping to get lots more pictures myself but didn't so I have to rely on other people to take pictures of me XD I will share some of my decent looking pictures and since it's my review thread I'll post more Tania orientated visuals. Pictures credit to Pat Lyttle and Garry Vandehorne (facebook steal)
First Catwalk:
I'm the middle pink one as 'Bunny Bride'
Second Catwalk:
Me as 'Alice'
One of my wooden dolls exhibit:
Sword Play Performance:
Self Suspension (Alex/Boykitten);
Syban's Performance:
My personal suggestion for the next event would be
focusing more on selling and trading lolita/loliable clothes
and
accessories
, which meant less preparation from a single person (Alex) and have everybody chip in as they will be
selling their brands (or offbrand) stuff
.
There was only one big glitch that I noticed which was the
raffle draw
that never happened.
It was fun and I was knackered by the end of the night/early morning.
Hope to see more reviews and pictures!
<3
xx
Current Mood:

cheerful